Convenient & Affordable Alternator Replacement Perth
Book A Mechanic You Can Trust Today
We can diagnose, supply and fit a new alternator from the comfort of your home or workplace making the process much more convenient and efficient. If you're in need of a new alternator, or you suspect you have a failed alternator, call us today to book in for a diagnostic and replacement.
We go the extra mile to ensure you're happy and offer the best possible combination of price and convenience. You won't find a mechanic that cares about you more than us.
Alternator Replacement - What You Need To Know
Your alternator is a major component of your car's electrical system. It converts the rotational energy of the engine into electricity which powers your car electrical system. Modern cars have a lot of electrical components. To power all these components up without issues we need a powerful power source – the alternator. Alternators in cars are not only used to charge the car battery but also to power the entire electrical system of your car, including lights, stereo, ignition, and much more. Most people don't realise that when the car is running it's actually using power from the alternator and not the battery. Alternators are always connected to the car battery to make sure the car battery won't run out of power while the engine is running, The word "alternator" comes from the fact that the component generates alternating current or "AC" similar to the sockets in your house but at a much lower voltage. In practicallity this voltage is then converted to direct current or "DC" which is what powers the vehicle systems and charges the battery.
How do I know if I need a new alternator?
Signs of a bad alternator include the following:
✓ A warning light on the dashboard (the little red battery symbol you may have seen at times when you start your car) which remains on when the engine is running
✓ Difficult starting or no starting because of a discharged battery
✓ Abnormal noise from the engine bay.
✓ Abnormal electrical problems or "gremlins" (most commonly random dash lights coming on or the car completely shutting down)
How much does an alternator replacement cost?
Alternators are not cheap components, and depending on the setup in the vehicle can require a reasonable amount of labour to replace. Generally speaking as a ball park guide, an alternator replacement cost will be between $500 – $1000 for most vehicles and even more for luxury / exotic vehicles. It's important then to make sure that an alternator issue is correctly diagnosed before investing the money in an alternator replacement.
The first step in any alternator replacement is an accurate diagnosis. This will involve checking the the charging voltage when the engine is running, the supply voltage to the alternator and the alternator drive system (usually a belt).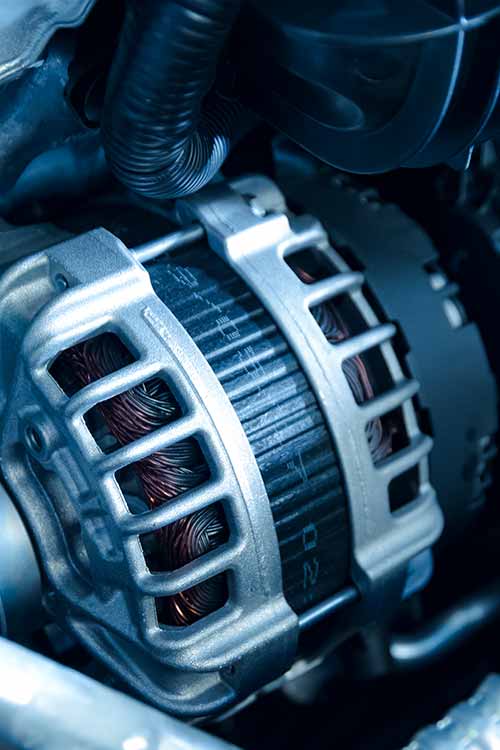 The last thing you want is for your alternator to fail and leave you stranded so if you have any of the symptoms listed above or suspect your alternator is failing call us today for a friendly chat and get your car booked in for a diagnostic & replacement
We're always happy to have a chat with you about what you're looking for, so call us anytime for a friendly no obligation chat. If you'd prefer to send us an email fill in the form below and we'll get back to you.